Dr. Alexandra Palzkill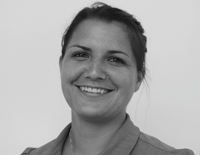 Contact:
Room: TransZent 1
Phone: (0)202 747 464 42
Mail: palzkill[at]uni-wuppertal.de
Alexandra Palzkill is co-leader of the junior research group UrbanUp and research fellow at the Schumpeter School of Business and Economics at the University of Wuppertal. In the project, she analyzes the role of (sustainable) business models in sustainability transitions towards an Urban Sharing Society. Her research interest is focused on the economic dimension of socio-cultural transformation processes in the context of sustainable sharing trends. In her research, she examines which forms of business models can enable a sustainable sharing-based economy and to what extent these are part and driver of socio-cultural change processes.
Addressing these topics, she builds on previous work as a research fellow at the Wuppertal Institute (2010-2017), where she did research on alternative prosperity and alternative business models in the context of sustainable development. Previously, she studied Sociology and Economics in Göttingen. She holds a PhD from the University of Wuppertal (doctoral thesis on "Business Model Resilience").