Objectives and Areas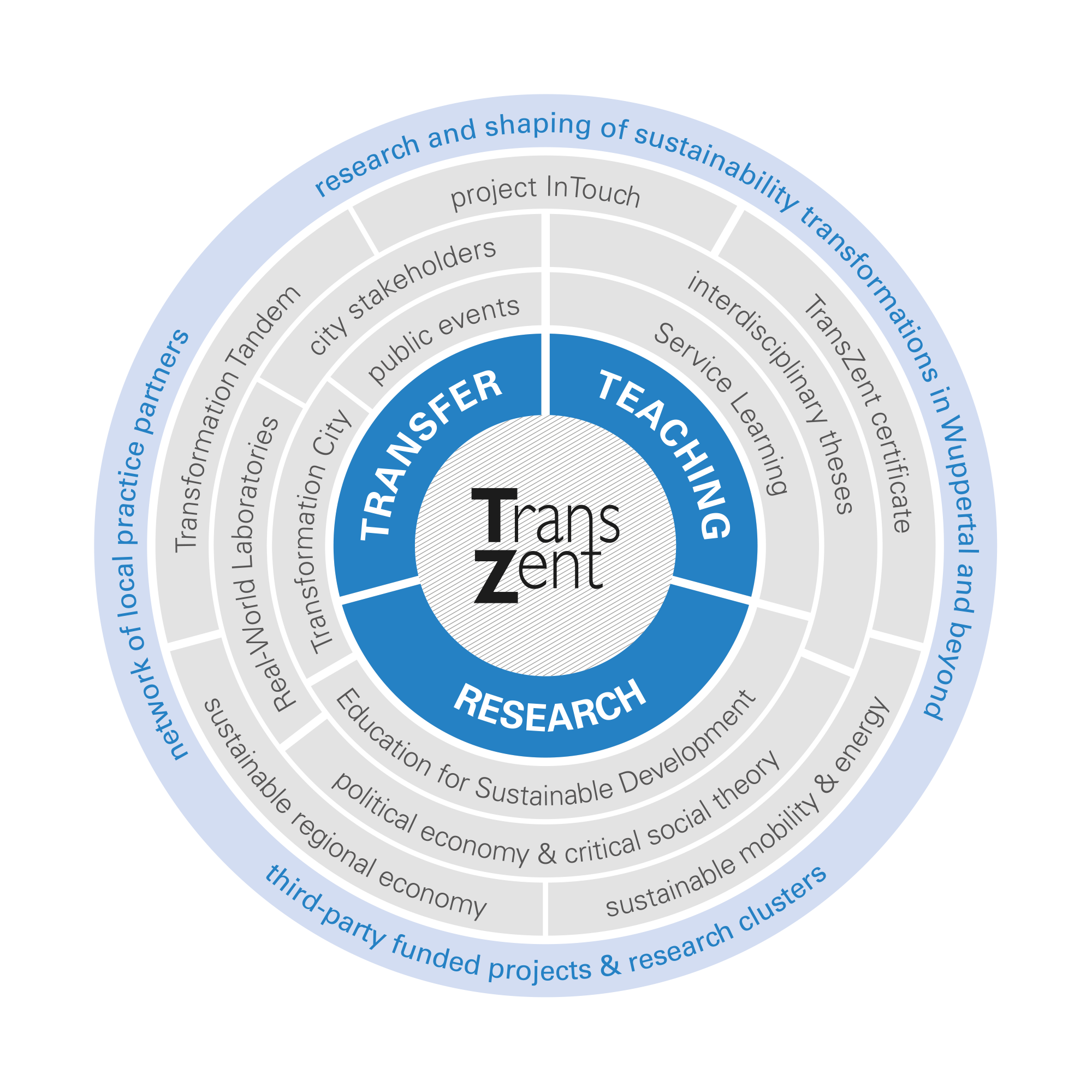 Objectives
With the establishment of TransZent, the University of Wuppertal (BUW) aims to create a competence center for research on transformation processes that is visible at an international level. TransZent pools existing competencies in sustainability research at the BUW and in the region. For this reason, a core partnership is being established with the Wuppertal Institute for Climate, Environment, Energy (WI) within the existing master agreement for cooperation between BUW and WI.
The Center is predominantly research-oriented. It also strives for innovative teaching concepts to improve personality development and qualifications. Building on the social and economic sciences of the BUW and the competences in applied sustainability and transformation research of the Wuppertal Institute as the core partners, the Center aims to promote the exchange between social and economic, natural and technical sciences in order to analyze the prerequisites for fundamental changes in a comparative way and to derive approaches to improving sustainability in the spirit of the BUW's mission statement.
In line with transformative science and transdisciplinary research, the Center also builds a bridge from the university to civil society, politics and business in Wuppertal and the region. To this end, the Center engages in research cooperation with local and regional practice partners. It organizes joint events to discuss research processes and results with citizens.
Areas
As an interdisciplinary Center of the BUW, TransZent focuses on sustainability and transformation research. In addition to disciplinary and interdisciplinary research approaches, TransZent uses in particular transdisciplinary and transformative research approaches and contributes to their conceptual and methodological development. The members of TransZent are currently focusing on topics such as regional economics, sustainable mobility & energy, political economy & social theory and education for sustainable development. TransZent's research projects are usually funded by third-party research grants.
In teaching, TransZent coordinates BUW's courses with reference to sustainability and transformation and certifies the successful completion of these courses with the TransZent certificate. The Center supports service learning and maintains a list of interdisciplinary thesis topics related to sustainability and transformation.
The mutual transfer of knowledge in civil society, politics, administration and business is ensured by the networking work of the Center, public events in the city, transdisciplinary research projects with practitioners and intensive work with refugees.